Intelligent Signal Scanning recorders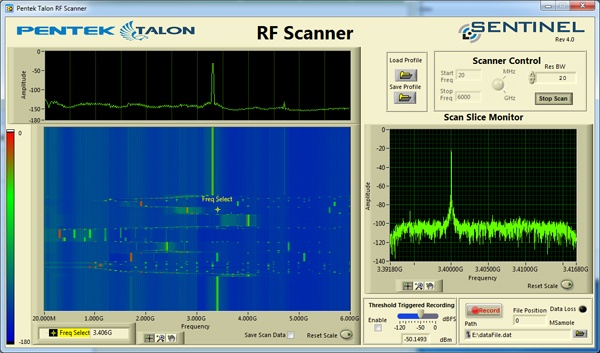 Pentek's Sentinel™ recorders add
intelligent signal monitoring and detection
for Talon real-time recording systems. The intuitive GUI allows users to
monitor the entire spectrum
or select a region of interest, while a selectable resolution bandwidth allows the user to trade sweep rate for a finer resolution and better dynamic range. Scan settings can be saved as profiles to allow for quick setup in the field.
RF energy in each band of the scan is detected and presented in a waterfall display.
Any RF band can be selected for real-time monitoring or recording
. In addition to manually selecting a band for recording, a recording can be automatically started by configuring signal strength threshold levels to trigger a recording.
RF Scanner GUI
An
RF Scanner GUI
allows complete control of the system through a single interface. Start and stop frequencies of a scan can be set by the user as well as the resolution bandwidth. All user parameters can be saved as profiles for easy setup in the field. Frequency slices from the waterfall display can be selected and monitored, allowing the user to zoom into bands of interest. Threshold triggering levels can be set to record signals that exceed a specified energy. Recordings can also be manually started and stopped from the RF Scanner GUI.
Description
Talon 26 GHz Sentinel Intelligent Signal Scanning RTX Extreme Recorder
Captures RF signals from 1 GHz to 26 GHz
Capture and scan bandwidths up to 500 MHz
12-bit A/Ds with 57.5 dB SNR & 72 dB SFDR
Rugged 1/2 ATR MIL-spec chassis for harsh mechanical and thermal environments
---
Description
Talon 26.5 GHz Sentinel Intelligent Signal Scanning Rackmount Recorder
Captures RF signals from 800 MHz to 26.5 GHz
Capture and scan bandwidths up to 500 MHz
12-bit A/Ds with 57.5 dB SNR & 72 dB SFDR
4U chassis with front panel removable SSDs
---
Description
Talon 6 GHz RF/IF Sentinel Intelligent Signal Scanning Portable Recorder
Captures RF signals up to 6 GHz
Capture and scan bandwidths up to 40 MHz
16-bit A/D with 75 dB SNR & 87 dB SFDR
Portable system measuring 16.0" W x 6.9" D x 13.0" H
---
Description
Talon 6 GHz RF/IF Sentinel Intelligent Signal Scanning Rackmount Recorder
Captures RF signals up to 6 GHz
Capture and scan bandwidths up to 40 MHz
16-bit A/D with 75 dB SNR & 87 dB SFDR
3U to 6U 19-inch rackmount server chassis with hot-swappable HDDs
---