RFM3101 Wideband Microwave Transceiver:
The SpectrumSeries™ RFM3101 is an open-architecture, microwave transceiver optimized for demanding electronic warfare (EW) applications. The transceiver offers high-performance operation from 6 – 18 GHz with low phase noise and an internal local oscillator (LO). To support rapid system integration, the RFM3101 is compliant to the OpenVPX (VITA 65) open architecture standard. This modular and open architecture defines the mechanical and electrical interfaces, thereby simplifying product installation and enabling low-cost system upgrades.
• Rugged, compact and full open systems compliance
• Wideband - Excellent phase noise - High dynamic range
• Built-in LO generation - System lockable via external reference inputs
• External LOs capability for EW versatility
---
RFM3101 Wideband Transceiver Datasheet.
---
Pentek Downconverters: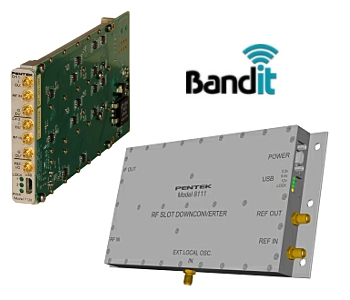 The Bandit™ family of analog receivers provide a series of high-performance, stand-alone RF downconverter modules. These products offer a low noise figure, programmable gain and a high dynamic range and ensure there are no gaps in the RF spectrum coverage. The Bandit series are an ideal solution for amplifying and downconverting antenna signals for communications, radar and signal intelligence systems.


Product Name
Description
Input Frequency Range
Description
Modular Analog RF Slot Downconverter Series
Input Frequency Range
Option 001> 800 - 1200MHz
Option 002> 1100 - 1500MHz
Option 003> 1400 - 1800MHz
Option 004> 1700 - 2100MHz
Option 005> 2000 - 2400MHz
Option 006> 2300 - 2700MHz
Option 007> 2600 - 3000MHz
---
Description
2 Channel Analog RF Wideband Downconverter

Available in PCIe, 3U VPX, cPCI, AMC, XMC form factors
Input Frequency Range
Accepts RF signals from 400 MHz to 4000 MHz
Accepts RF input levels from -60 dBm to -20 dBm
Baseband IF output with up to 390 MHz bandwidth
Internal OCXO or external 10 MHz frequency reference