Pentek 3U VPX Analog I/O with Zynq Ultrascale+ RFSoC FPGA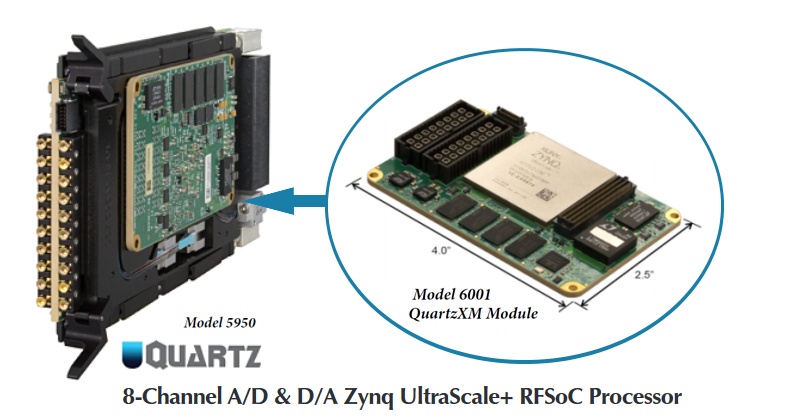 Pentek's New
Model 5950
is a high-performance 3U OpenVPX development board based on the latest
Xilinx Zynq UltraScale+ RFSoC FPGA
.
The
RFSoC
with its
All Programmable SoC architecture
integrates
eight RF-class A/D and D/A converters
into the Zynq's multiprocessor architecture, creating a multichannel data conversion and processing solution on a single chip.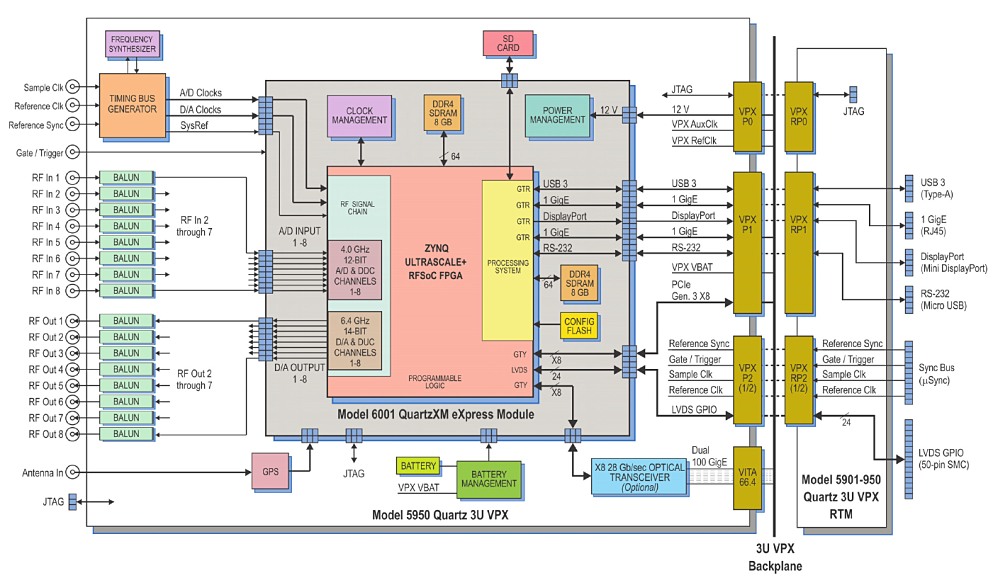 Complementing the RFSoC's on-chip resources are the 5950's sophisticated clocking section for single board and multiboard synchronization, a
low-noise
front end for RF input and output, up to
18 GBytes of DDR4
, a
PCIe interface
, a
gigabit serial optical
interface capable of supporting
dual 100 GigE
connections and general purpose serial and parallel signal paths to the FPGA.
Supports Xilinx Zynq UltraScale+ RFSoC FPGAs
18 GB of DDR4 SDRAM
On-board GPS receiver
PCI Express (Gen. 1, 2 and 3) interface up to x8
User-configurable gigabit serial interface
LVDS connections to the Zynq UltraScale+ FPGA for custom I/O
Optional optical interface for backplane gigabit serial interboard communication
Compatible with VITA standards: VITA-46, VITA-48, VITA-66.4, VITA-57.4 and VITA-65 (OpenVPXTM System Specification)
Ruggedized and conduction-cooled versions available
Download Pentek's Strategies for Deploying RFSoC White paper
3U VPX (UltraScale+ RFSoC FPGA)
Description
8ch ADC, 12 bit, 4GHz (with integrated DDCs) + 8ch DAC, 14-bit, 6.4GHz (with integrated DUCs)
---

Navigator Design Suite
The key to unlocking the potential of the RFSoC is efficient operation using optimized IP and application software. Model 5950 is supported by Pentek's Navigator Design Suite (BSP & FPGA Design kit), which provides a
full suite of built-in functions
to address the data flow and basic processing needed for some of the most common applications.
Example applications are included (with full IP
) for
Digital RF Memory (DRFM), High Bandwidth Data Streaming, Waveform and Radar Chirp Generator and Multi-mode Data Acquisition System
.
Pentek's Navigator Design Suite includes the Navigator FDK (FPGA Design Kit) for integrating custom IP into the Pentek factory-shipped design and the Navigator BSP (Board Support Package) for creating host applications. The Navigator Design Suite was designed from the ground up to work with Pentek's latest board architecture and provide a better solution to the complex task of IP and software creation.